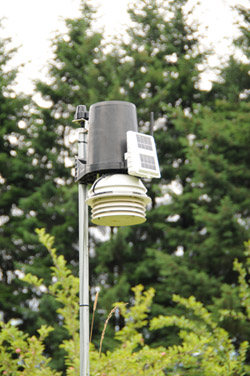 WEATHER STATION UPDATES
-Mar 2013- A new Solar Radiation sensor has been added to the station. Very useful in agriculture to calculate soil moisture evaporation. (Evapotransportation is a function of Solar, Wind, and Temp) Also useful in the generation and calculation of potential solar energy.
-Apr 2011- Again I've moved the temp/hum sensor to a new location for more accurate data. I would like to thank my neighbor for siting them on his property of 3 acres. The field is mostly grass and garden, a perfect environment for the sensor suite. The fan aspirated radiation shield is solar powered to operate through the daylight hours.
-Mar 2010- The All of the sensors have been re-sited on the property to give you the most accurate data possible. More information on my weather HOME page.
-Feb 2009- The old communications tower structure has moved and grown to 85 feet. The anemometer is now mounted above the tree line relaying accurate wind information. Also the webcam is now mounted at 95 feet with a clear 360 degree view. I plan to upgrade the image resolution of the webcam soon.
-WX Radio- This audio is streamed from RF receivers to my weather server using EdCast then to the Weather Underground WX radio network.
Eugene Current Conditions [Updated every minute]

Updated: 6:16am on 12/20/14

(location)

Currently: 49.0°

Hum:86%

Wind Chill:49.0°

High: 49.1°
(5:48am)
Low: 47.8°
(1:11am)

Wind Chill Low:47.8° (1:11am)

Comfort Level:
Cool
Wind:
0 mph from the SSE -measured above tree line-
Gust:
0 mph
Today's High Wind:
0 mph (12:00am)
Dominant Wind Direction:
158°(0°N 90°E 180°S 270°W 360°N)
Humidity:
86%
Pressure:
29.79 in (Steady)
Pressure Rate:
-0.01 in/hr
Dew Point:
45.1°
Wind Chill:
49.0°
Heat Index:
54.1°
Visibility:
10 miles
Cloud Height:
975 feet

Rainfall Totals

Current Rain Rate:
0.120 in
Hourly:
0.04 in
High Rain Rate:
0.073 in 2:44am
Today:
0.28 in
Last 24 Hours:
0.45 in
Monthly:
4.92 in
Monthly Average:
2.79 in
Yearly:
43.95 in
Yearly Average:
37.68 in

Solar Radiation (watts per square meter)

Currently:
0 W/sqm
24 Hours Ago:
0 W/sqm
Today's High:
0 W/sqm at 12:00am
Yesterday's High:
429 W/sqm at 1:51pm
Daily Average:
0 W/sqm
Monthly Average:
32 W/sqm
Yearly Average:
162 W/sqm
Monthly High:
464 W/sqm 12/3/14
Yearly High:
1461 W/sqm 6/13/14
Currently:
0.00 in
Rate:
0.000 in
Today's High:
0.000 in at
Daily Average:
0.00 in
Monthly Average:
0.01 in
Almanac and Star Chart
Sunrise:
Moonrise:

Moon Phase:
4%

7:43am
6:03am
Sunset:
Moonset:
4:36pm
3:55pm
***Star Chart***
Records and Normals

| | |
| --- | --- |
| Temps. | Forecast |
| High | 55° |
| Low | 54° |

Normal
Record
0°
50°
(2002)
0°
17°
(1998)

History
Yesterdays Low Temp:
42.1° 8:53am
Yesterdays High Temp:
55.2° 2:02pm
Month Low Temp:
29.9° 12/1/14
Month High Temp:
63.4° 12/9/14
Years Low Temp:
20.6° 11/16/14
Years High Temp:
99.8° 8/11/14
Temp 24 Hours Ago:
45.9°
Now it is:
3.1° warmer/cooler than yesterday
Yesterdays High Wind:
0 mph (12:00am)
Month High Wind:
15 mph on 12/2/14

Year High Wind:

44 mph on 2/15/14
History Graphs More History Graphs
Weather Advisories
Warning Date: 10:54 am PST on December 19, 2014
Warning Description: Areal Flood Watch
Full Advisory Text...
Forecast
| | | | | |
| --- | --- | --- | --- | --- |
| Sat | Sun | Mon | Tue | Wed |
| | | | | |
| Rain | Rain | Chance Rain | Mostly Cloudy | Chance Rain |
| 55° | 57° | 55° | 55° | 46° |
| 54° | 48° | 52° | 36° | 36° |
My Local Forecast (Generated by this weather station)
Increasing clouds and cooler. Precip possible within 6 hrs Windy with possible wind shift to the W NW or N
Web Cam (Tower mounted at 100 feet)
Image updated every 1 min (looking south, usually)
(may need to click twice to play)
Time lapse video archive
Warning Description: Areal Flood Watch

Warning Date: 10:54 am PST on December 19, 2014

WarningSum:...Flood Watch In Effect From Saturday Afternoon Through Monday
Afternoon For Southwest Washington And Northwest Oregon...

Warning Message:The National Weather Service in Portland has issued a Flood Watch
for southwest Washington and northwest Oregon. This watch is in
effect from Saturday afternoon through Monday afternoon.
Confidence continues to increase that a classic atmospheric river
type precipitation event will set up over the Pacific northwest
over the weekend and continue into early Monday. A deep and moist
westerly flow is expected to develop Saturday morning and
strengthen later Saturday and Sunday. A very long fetch of
moisture with origins west to the South China Sea will feed into
this system...bringing the potential for very large rainfall
totals across the region. With the flow forecasted to remain
perpendicular to the Coast Range and Cascades for an extended
period of time...expect strong orographic enhancement to lead to
the highest rainfall totals over the mountains. The Coast
Range...foothills and Cascades are expected to see in the range of
6 to 12 inches of rain...with locally higher amounts possible.
Lower but still significant totals are expected for the lower
terrain. Projected rainfall along the coast is forecasted to be
around 4 to 8 inches...with 2 to 5 inches expected over the
interior lowlands.
Given the latest forecasted rainfall totals...it appears that
there is the strong potential for flooding over the weekend on
numerous rivers and tributaries draining the Coast Range and
Cascades. A few rivers may reach major flood stage. The Current
River stage forecasts indicate that the faster responding rivers
could reach flood stage as early as Saturday evening. There also
appears to be potential for flooding on some of the main Stem
rivers early next week. In addition to flooding potential on the
main Stem rivers and tributaries...there are likely to be impacts
from Urban and Small Stream flooding and flooding along low lying
pasture land.
In addition to the flooding concerns...excessive rainfall has the
potential to create landslides...debris flows...and excessive runoff
in the vicinity of recent wildfire burn scars. Burn scars from two
large fires this Summer...the 36 pit fire in the Clackamas river
basin near Estacada and the deception complex near Oakridge...will
be particularly vulnerable.
Precautionary/preparedness actions...
A Flood Watch means there is a potential for flooding based on
current forecasts.
Landslides and debris flows are possible during this flood event.
People...structures and roads located below steep slopes...in
canyons and near the mouths of canyons may be at serious risk
from rapidly moving landslides.
You should monitor later forecasts and be alert for possible
flood warnings. Those living in areas prone to flooding should be
prepared to take action should flooding develop.
The next update for this watch will be issued by 6 am Saturday
morning.